The introduction of electronic tolls (no pay booths) on the A22 Algarve Motorway, and other similar motorways in the north of Portugal has caused chaos, especially with visitors. Most people tell us they don't mind the tolls, but object to the method of payment, especially for foreign registered cars. The problem is quite simply that these roads were not built as toll roads, so they have no space to build toll booths and as a result, the system has to be fully automatic.
So far we did not have the transporter, our clientes have the responsability to pay the tolls at the Post Office or Pay Shop, which must be done within five days, but only after 48 hours have transpired. You only need to supply the registration plate of your rental car.
If you did not pay, official answer is "wait until we write to you at your address back home", the reality is that we don't know anyone (yet) who has received such a letter. 
Price Table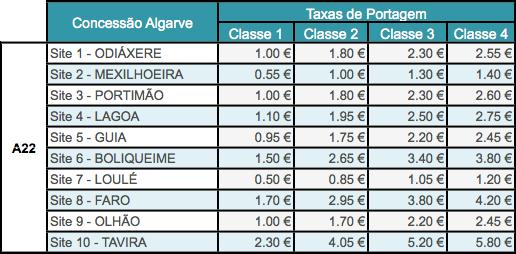 It is also possible to check the amount to pay on the CTT website at this link:
www.ctt.pt/fectt/wcmservlet/ctt/particulares/servicos_financeiros/en/tolls/meus_movimentos/valor-em-divida.jsp
You just write the registration number of the car you rent on the field and insert the captch letters.
Thank's for your choice...Algarve car rental? Off couse Amoita...